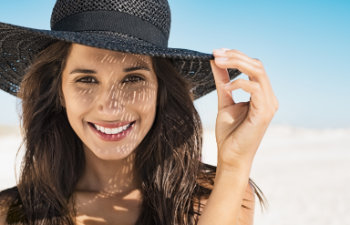 Dentistry has evolved considerably in the past several decades. While tools and techniques have certainly advanced, the materials used in dentistry have also improved. One of the most valued changes in modern dentistry is the use of composite resin in dental fillings. At Exceptional Smiles @ Landerbrook, we are proud to offer composite fillings as a preferred aesthetic and functional material of choice.
What is Composite Resin?
Composite resin is a ceramic and plastic compound that is applied in layers to a damaged or unsightly tooth. This material can be molded, shaped and shaded to match your existing tooth and surrounding teeth. Unlike amalgam (or silver) fillings, a composite resin filling bonds to your tooth for ideal aesthetics and optimal durability.
Composite resin has the unique ability to be used restoratively and cosmetically. In other words, composite resin can repair a chip or area of decay in a tooth, without compromising its aesthetics. Composite is equally effective when used in cosmetic dental bonding as well as cavity repair.
Why are Composite Fillings Preferred Over Silver (Amalgam) Fillings?
Patients may prefer composite fillings over amalgam fillings for several reasons, including the following:
Looks Natural: Composite fillings are tooth-colored and can be matched to the shade of the surrounding teeth, making them virtually invisible. On the other hand, amalgam fillings are silver-colored and can be noticeable when talking or smiling.
Metal-Free: Some patients may have concerns about the mercury content in amalgam fillings, even though the American Dental Association has deemed them safe. Composite fillings, on the other hand, do not contain mercury and are considered safe.
Minimal Tooth Removal: Composite fillings require less removal of the tooth structure compared to amalgam fillings, which may require more drilling and removal of healthy tooth structure.
Bonding and Better Support: Composite fillings bond to the tooth structure, which can provide additional support to the tooth and help prevent further decay. Amalgam fillings, on the other hand, do not bond to the tooth and may require additional drilling to create a secure fit.
No Temperature Sensitivity: Amalgam fillings may expand and contract with changes in temperature, which can cause discomfort or sensitivity in some patients. Composite fillings do not have this issue.
While composite fillings can often be the best choice for most cavity repairs and chipped tooth repair, it isn't always ideal. For tooth damage that is too large, a dental crown or inlay/onlay may be recommended instead of a composite dental filling.
To learn more about the pros and cons of white fillings versus silver fillings, please consult our dental team at Exceptional Smiles. We can always suggest the material that is best for your unique situation.
Posted on behalf of Exceptional Smiles
5825 Landerbrook Drive Suite #121
Mayfield Heights, OH 44124
Phone: (440) 335-5930
Email: office@exceptionalsmiles.com
Mon - Wed: 7am – 3pm
Thu: 7am – 7pm
Fri: 7am – 3pm
Sat - Sun: Closed