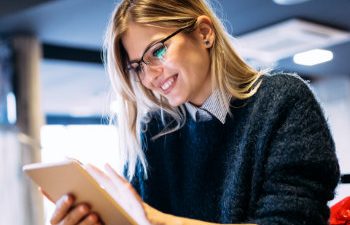 In today's digital age, it's common for people to spend hours hunched over their phones or computers, leading to a condition called "text neck." This posture can cause various health problems, including neck and shoulder pain, headaches and even tooth movement. In this blog post, we'll explore how a retainer can help prevent tooth movement from text neck posture.
What Is Text Neck Posture?
Text neck posture is a condition that occurs when people spend prolonged periods with their heads tilted forward and down while using electronic devices such as phones or computers. This posture can put excessive pressure on the neck and spine, leading to muscle strain and pain.
Over time, this posture can also affect the alignment of your teeth, causing them to shift out of place. This happens because muscles and ligaments in your jaw are connected to the muscles in your neck and shoulders. Adopting a forward head posture can cause tension in these muscles, which can pull on your teeth and cause them to shift.
How Can a Retainer Help?
A retainer is a custom-made dental appliance that fits over your teeth to help maintain their position. Retainers are often used after orthodontic treatment to prevent teeth from returning to their original positions. However, retainers can also be useful in preventing tooth movement caused by text neck posture.
Wearing a retainer helps to hold your teeth in place and prevent them from shifting. This is especially important if you spend a lot of time looking down at your phone or computer. By wearing a retainer, you can help counteract the forces pulling on your teeth and keep them in their correct position.
In addition to preventing tooth movement, a retainer can help alleviate some symptoms associated with text neck posture. For example, if you have jaw pain or headaches caused by tension in your neck and shoulders, a retainer can help to reduce this tension and provide some relief.
Conclusion
Text neck posture is a common problem in today's digital age, and it can cause a variety of health problems, including tooth movement. By wearing a retainer, you can help to prevent tooth movement and maintain proper alignment. If you're experiencing symptoms of text neck posture, such as neck pain or headaches, talk to your dentist or orthodontist about whether a retainer might be suitable for you.
Posted on behalf of Exceptional Smiles
5825 Landerbrook Drive Suite #121
Mayfield Heights, OH 44124
Phone: (440) 335-5930
Email: office@exceptionalsmiles.com
Mon - Wed: 7am – 3pm
Thu: 7am – 7pm
Fri: 7am – 3pm
Sat - Sun: Closed